Social Events
A Welcome party will be held on Sunday evening, May 22.
On Wednesday afternoon (25th May) a sightseeing trip to a medieval mining town of Kutná Hora will be organized.
The town of Kutna Hora lies about 30 km from the Symposium place (30-min ride by bus) and is famous for its gothic architecture, medieval silver mines and famous ossuary (bone chapel). Due to its historical and architectural importance the town was declared a UNESCO World Heritage Site. More information of this interesting place can be found at the following websites:
http://en.wikipedia.org/wiki/Kutna_Hora
http://www.kutnahora.cz/index.php?sec=2&cid=89
http://www.discoverczech.com/kutna-hora/index.php4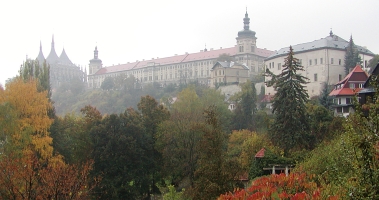 Trips to interesting places in Eastern Bohemia will be arranged for accompanying persons. The details can be found on the web pages of the organizing travel agency: http://ahoj.czechian.net. Also a trip to Prague might be organized on Friday, May 27, for those participants who are interested.
Generated on 1.10.2012 from the source modified on 26.4.2011.