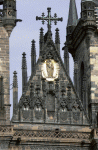 PROGRAMME
SOCIAL EVENTS
Sunday, 7 June
14:00 - 19:00 Registration, refreshment
19:00 - 21:00 Welcome party takes place for all participants of the conference in the Pyramida Hotel.
Monday, 8 June
Moravian evening, wine and cheese tasting with short cultural programme
Tuesday, 9 June
Czech evening with Czech beer and coctail snack
Wednesday, 10 June
17:00 possibility to visit Břevnov Monastery (it is necessary to order at registration desk)
Břevnov Monastery -archabbey- is the oldest monastery in Bohemia. It was founded by St. Adalbert and Boleslav II in 993 for the order of Benedictines. Its current Baroque appearance is a work of K. I. Dienzenhofer from the 18th century.
18:30 - 22:00 Slavonic evening in the Břevnov Monastery, Markétská str. 28/1, Prague 6 - Břevnov (for the way, see a map)
Thursday, 11 June
16:15 Farewell drink