Skip to contents | Programme booklet | registration form (it is still possible to register, but without being involved into the programme booklet)
---
INSTITUTE OF MACROMOLECULAR CHEMISTRY
ACADEMY OF SCIENCES OF THE CZECH REPUBLIC
INTERNATIONAL UNION OF PURE AND APPLIED CHEMISTRY
2006 PRAGUE MEETINGS ON MACROMOLECULES
45th microsymposium
STRUCTURE AND DYNAMICS OF SELF-ORGANIZED MACROMOLECULAR SYSTEMS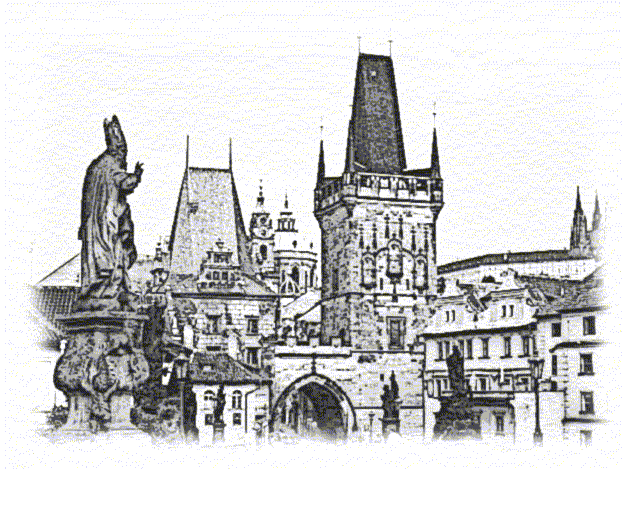 PRAGUE, 9 - 13 JULY 2006
Second circular
---
---
PRAGUE MEETINGS ON MACROMOLECULES
69th meeting - 45th Microsymposium
under the auspices of the
INTERNATIONAL UNION OF PURE AND APPLIED CHEMISTRY, Polymer Division
Jung-Il Jin
President of the Polymer Division
Organized by the
INSTITUTE OF MACROMOLECULAR CHEMISTRY
ACADEMY OF SCIENCES OF THE CZECH REPUBLIC
K. Ulbrich
Director of the Institute
D. Výprachtický
P.M.M. Head
E. Grisová, M. Rodová
P.M.M. Secretariat
J. Jůza, J. Kaprálek
P.M.M. Technical Managers
Address:
Institute of Macromolecular Chemistry
Academy of Sciences of the Czech Republic
P.M.M. Secretariat
Heyrovského nám. 2
CZ-162 06 Praha 6
Czech Republic
Phone: +420-296 809 332
Fax:      +420-296 809 410

E-mail: sympo@imc.cas.cz
---
Structure and Dynamics of Self-organized Macromolecular Systems Prague, July 9-13, 2006
Symposium Chairman: Petr ŠTĚPÁNEK
International Advisory Board
Local Programme Committee

E. Brynda, P. Černoch, J. Holoubek, M. Janata, Č. Koňák, J. Pleštil, Z. Tuzar
---
Technological advances in many scientific fields lead to investigation, understanding and exploitation of structures of continually smaller dimensions. Due to a large variety of building blocks, chemical reactions and architectures, polymers represent a particularly rich field where self-organization can be exploited to obtain materials with new properties. The scope of this meeting is to bring together scientists working in the field of synthetic polymers and biopolymers and interested in self-organization.
Chemical routes for self-organization
Physics of self-organization
Self-organized surfaces and interfaces
Self-organization in biology
Polymer complexes, ion-containing polymers and membranes
All sessions will be held in the Institute of Macromolecular Chemistry of the Academy of Sciences of the Czech Republic, Praha 6, Heyrovského nám. 2.
The scientific programme consists of invited main lectures of 40 min and additional 10 min for discussion, special lectures of 20 min and additional 5 min for discussion, and two poster sessions.
English is the working language of the Microsymposium; no translation will be provided. All materials for publication must be submitted in English.
Data-Video-Projector (XGA) connected to a local PC will be available. Following media can be used for transfer of data: FDD 3.5", CD, DVD, USB-Flash. Other supported inputs are via: PCMCIA, IEEE 1394 ports, 4-in-1 Card Reader-Multimedia Card, Secure Digital, Smart Media, or from VHS. No connection of private notebooks or laptops will be allowed. Full functionality of the presentation will be checked by the technical staff in advance.
In addition, an overhead projector will be available.
The following scientists have already agreed to present main lectures:
The following special lectures have been accepted:
R. Bansil (USA): Kinetics of order-order transitions between cylinders, spheres and lamellae: Comparison of time-resolved SAXS data with a model of coupled anisotropic fluctuations
L. Billon (France): pH-sensitive self-assembly in water of poly(acrylic acid)-based gradient copolymers
O. Borisov (France): Theory of self-assembly of amphiphilic ionic copolymers in aqueous media
M. Burkhardt (Germany): Investigation of dynamic phenomena in aqueous PIBx-b-PMMAy micellar and complex solutions
R. Composto (USA): Self-Assembly of Nanostructures in Nanocomposite Polymer Blends and Amphiphilic Block Copolymer Films
O. Diat (France): Diblock and triblock ionomer membranes
J. Van Esch (Netherlands): Responsive molecular gels: A self-assembly approach towards smart materials
M. Geoghegan (UK): Polyelectrolyte brushes: Conformation and adhesion
T. Koga (Japan): Structure control of self-assembled ß-sheet nanofibers by artificial peptides composed of D- or L-isomers
S. Hvidt (Denmark): Micellization and dynamics of a block copolymer and copolymer mixtures
J. Lal (USA): Interaction between polymer and surfactant mesophases
M. Müller (Germany): Influence of charged polypeptide conformation on the nanostructure of polyelectrolyte complexes
L. Noirez (France): The solid-like nature of liquid-crystalline and ordinary polymer melts
P. Panine (France): Shear-induced  phase transition  in self-assembly block copolymers
D. Pergushov (Russia): Interpolyelectrolyte complexation in low-polarity organic media
S. Pispas (Greece): Novel double hydrophilic block copolymers via anionic polymerization: Self-assembly and complexes with biomacromolecules
M. Pitsikalis (Greece): Micellar structures from double hydrophilic copolymers as drug carriers for the treatment of leishmaniasis
V. Ponsinet (France): Charge partition and control of the self-assembly of amphiphilic polyelectrolyte diblock copolymers
I. Potemkin (Russia): Spontaneous charge inversion of a microgel particle by complexation with oppositely charged polyelectrolytes
P. Štěpánek (Czech Republic): Self-organized nanostructures in multicomponent polymer systems
R. Thompson (UK): Surface properties of novel dendritically functionalised polymers
T. Thurn-Albrecht (Germany): Crystallization of polymers under 2D-confinement: nucleation, growth and orientation in polymer nanotubes
G. Trimmel (Austria): Self-assembling studies of well defined functional block copolymers derived by ring-opening metathesis polymerisation
K.I. Winey (USA): Reconciling STEM and SAXS data:  gold nanoparticles and ionomers
The number of poster communications is limited (2 posters per registered participant). Every poster communication must be registered for presentation using the Registration Form; the registered poster communication is automatically accepted if the author's participation fee has been remitted before deadline.
The area for each poster is 110 cm high and 110 cm wide. The material for mounting posters will be provided.
Abstracts of main and special lectures and all registered poster communications will be published in the Programme Booklet provided their camera-ready texts have reached the P.M.M. Secretariat by 15 April 2006. We accept abstracts either on diskettes or CD, arrived by e-mail, or uploaded through the Microsymposium website. File formats: RTF or Microsoft Word are most suitable, PDF files or GIF pictures with resolution 600 dpi will also be accepted.
It is useful to use file names derived from the name of the participant (if you register using the WWW form and upload your abstract, the file is renamed automatically).
The P.M.M. Secretariat will confirm the receipt of the abstracts of all registered participants. Abstracts of unregistered participants will be neither confirmed nor published or returned.
Abstracts, except for their headings, will be printed without editing.
The Programme Booklet will be available at the Registration Desk.
Abstracts should not exceed one page of the A4 size. Abstracts will be printed in the A5 size, therefore the usie of smaller font sizes than in the template should be avoided.
A sample of an abstract is available at https://www.imc.cas.cz/sympo/ginfo/abstract.rtf in RTF format.
Abstracts with the format not corresponding to that of the sample will not be accepted.
Full text of papers based on main lectures and special lectures will be published in a special Symposium issue of the International Journal of Polymer Analysis and Characterization (IJPAC). The contributions intended for publication in IJPAC will be accepted exclusively as electronic files (e.g. on floppy disk or CD) during the Microsymposium or sent by e-mail to the Guest Editor, Petr Štěpánek (stepan@imc.as.cz) or to the Editor-in-Chief of the IJPAC, Josef Janča (jjanca@univ-lr.fr). The contributions will be peer-reviewed and published as soon as possible before the end of 2006. The Instructions for Authors can be found in a recent issue of IJPAC, on web site www.taylorandfrancis.com , or obtained from the Editor-in-Chief on request.
Contributions should not exceed 15 pages double-spaced using font Times Roman 12pt, including figures, tables, and references.
The final deadline for manuscript submission (to be considered for this symposium issue) is the end of the Microsymposium.
Registration Form/Fees
15 April 2006
Extended deadline: 20 May 2006
Abstracts
15 April 2006
Extended deadline: 20 May 2006
Cancellation of registration (if full refund is required)
1 June 2006
For detailed information, see General Information
Sunday 9 July
16-18
Registration
Monday 10 July
09-12
Session
12-14
Lunch
14-18
Session
Tuesday 11 July
09-12
Session
12-14
Lunch
14-18
Session
Wednesday 12 July
09-12
Session
12-14
Lunch
14-21
Excursion
Thursday 13 July
09-12
Session
12-14
Lunch
14-16
Session
16-17
Farewell
Visit to one of the historic castles or towns near Prague, followed by an informal dinner. The excursion will not coincide with any programme session or any event of the Accompanying Persons Programme.

Please book for the excursion using the Registration Form (admission by tickets only).       Price: 90 EUR (extra fee).
An interest in the social programme for accompanying persons (consisting of Prague sightseeing and/or trips to sights in Bohemia) should be indicated in Registration form.
---
The confirmation of registration means only that your registration is accepted. It is not a receipt of payment (see Remittance of fees).
Please note that the title of any contribution should be definitive and identical with the abstract heading.
The abstract does not replace the final registration.
The fees can be paid in any convertible currency but the total must be equivalent to the sum specified in Euro:
| | 30 April at the latest | After 30 April including on-site |
| --- | --- | --- |
| Full fee | 450 EUR | 550 EUR |
| IUPAC Affiliate Member fee* | 420 EUR | 520 EUR |
| Student fee** | 250 EUR | 350 EUR |
| Excursion |   90 EUR |   90 EUR |
The registration fee includes conference materials, admission to all sessions, refreshments, four lunches, and participation in the welcome reception and farewell drink.
* The participant is requested to give the number of his/her IUPAC Affiliate Membership card valid in 2006 in his/her Registration Form and show the card during on-site registration.
** Student-rate registration is available for students who can prove their full-time student status by submitting a statement of their university or institute.
Please order your bank to transfer the respective amount to the account:
| | |
| --- | --- |
| Account name: | Ustav makromolekulární chemie AV CR, Heyrovskeho nam. 2, 162 06 Praha 6 |
| Account number: | 478387443/0300 |
| Variable symbol: | 458140 |
| Payment title: | 355 |
| Bank: | Ceskoslovenska obchodni banka (address: Na prikope 14, CZ-115 20 Praha 1, Czech Republic.) |
| IBAN: | CZ14 0300 0000 0004 7838 7443 |
| BIC: | CEKOCZPP |
The P.M.M. Secretariat will acknowledge payments by mailing receipts.
The P.M.M. Secretariat is able to accept mail order payments with embossed Eurocard/Mastercard or VISA cards. Please fill in the form (can be generated from the on-line registration form after submission of your registration), sign it and send to the address of the P.M.M. Secretariat by airmail. The receipt of payment will be confirmed.
Remittance of fees is to be made by 30 April 2006. If a mail order is delivered to the P.M.M. Secretariat or payment recorded in the bank in Prague after 5 May 2006 (late payment), the higher rates of registration fees will come into effect and possible arrears will have to be cleared at the Registration Desk. On-site cash payment of a registration fee as a late payment may be accepted only exceptionally and after preliminary agreement of the Organizers. Without such agreement, the applicant cannot be included in the list of participants in Programme Booklet.
In the event of cancellation of participation, a full refund of the fees paid (less an administrative bank tax) will be made if the P.M.M. Secretariat receives notification before 1 June 2006. Only 75 % of the fees paid will be refunded if cancellation is received after 1 June but before 15 June 2006.
In any case, please inform the P.M.M. Secretariat where to return the payment (bank, address, and account No.). Refunds will not be issued for cancellations received after 15 June 2006.
A list of hotels of various categories including a student hostel will be available on the web of Congress Agency EKU (CZ -110 00 Praha 1, Vodičkova 17, e-mail info@eku.cz, http://www.eku.cz, phone/fax +420-224 947 589): http://www.eku.cz/akce/macro/macroEN.htm
Information about
can be found in the "Permanent information" on https://www.imc.cas.cz/sympo/ginfo/
All correspondence should be addressed to the
P.M.M. Secretariat
Institute of Macromolecular Chemistry
Academy of Sciences of the Czech Republic
Heyrovského nám. 2
CZ-162 06 Praha 6
Czech Republic
Phone: +420-296 809 332
Fax:      +420-296 809 410

E-mail: sympo@imc.cas.cz