SL1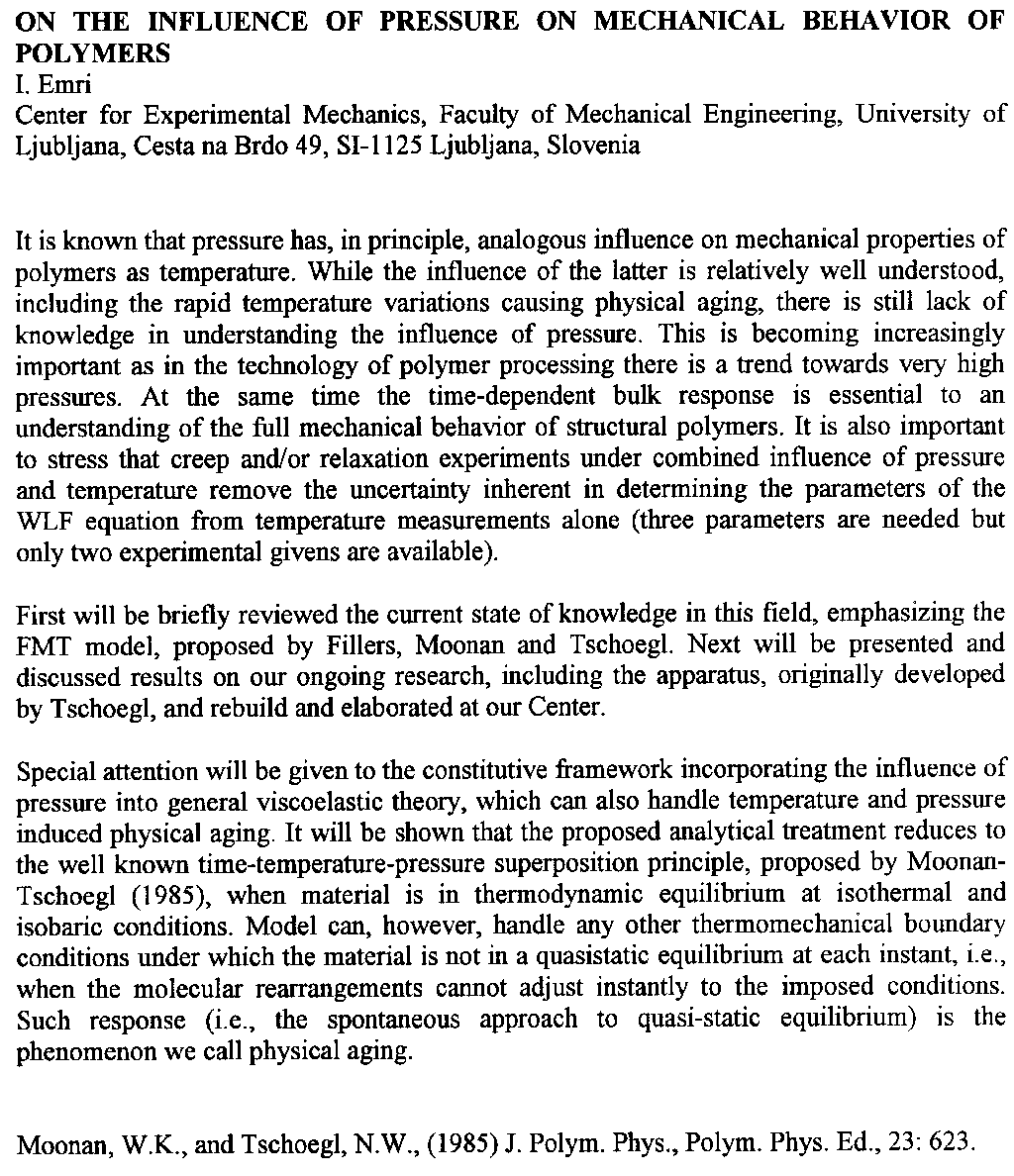 ---
SL2
EFFECT OF ELECTRON PROCESSES ON THE KINETICS
OF MECHANICAL FRACTURE OF POLYMERS
A. I. SLUTSKER
Ioffe Physical Technical Institute, Russian Academy of Sciences, 194021 St. Petersburg, Russia
Experimental data on fracture kinetics of high-density polyethylene, poly(ethylene terephtalate) and poly(tetrafluorethylene) under mechanical stress and /or electrical field in a broad temperature interval (both in classical and quantum range) are presented. A close correlation between the kinetic characteristics of the mechanical and electrical failure has been established. The effect of the electrical field on the mechanical fracture on one hand and the effect of the mechanical stress on electrical failure on the other are showed. The obtained experimental results are theoretically analysed and the similarity between the elementary events of mechanical and electrical failure is discussed
.
---
SL3
STRUCTURE DEVELOPMENT DURING NORMAL AND INVERSE SEQUENCE OF BIAXIAL STRETCHING PROCESSES OF PET FILMS
J.F.TASSIN1, M. VIGNY1, D. VEYRAT2
1Chemie et Physique des Matériaux Polymeres, UMR 6515, Université du Maine, Avenue Olivier Messiaen, 72085 LE MANS Cedex 9, France
2Toray Plastics Europe, Saint Maurice de Beynost, BP 140 01701 Miribel Cedex, France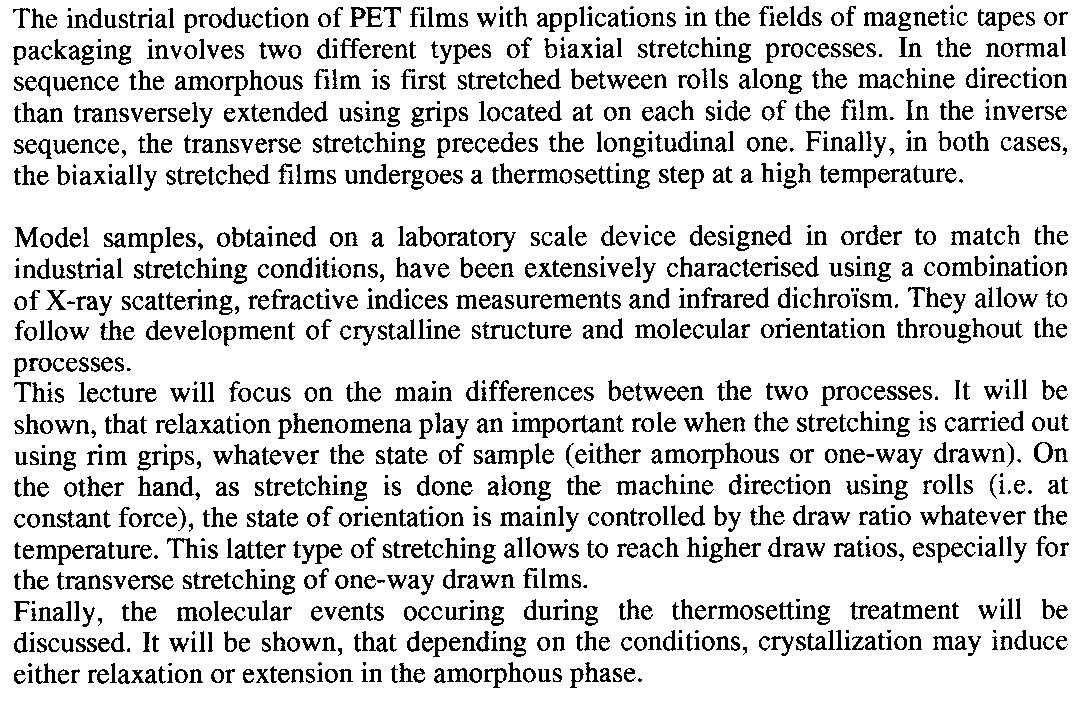 ---
SL4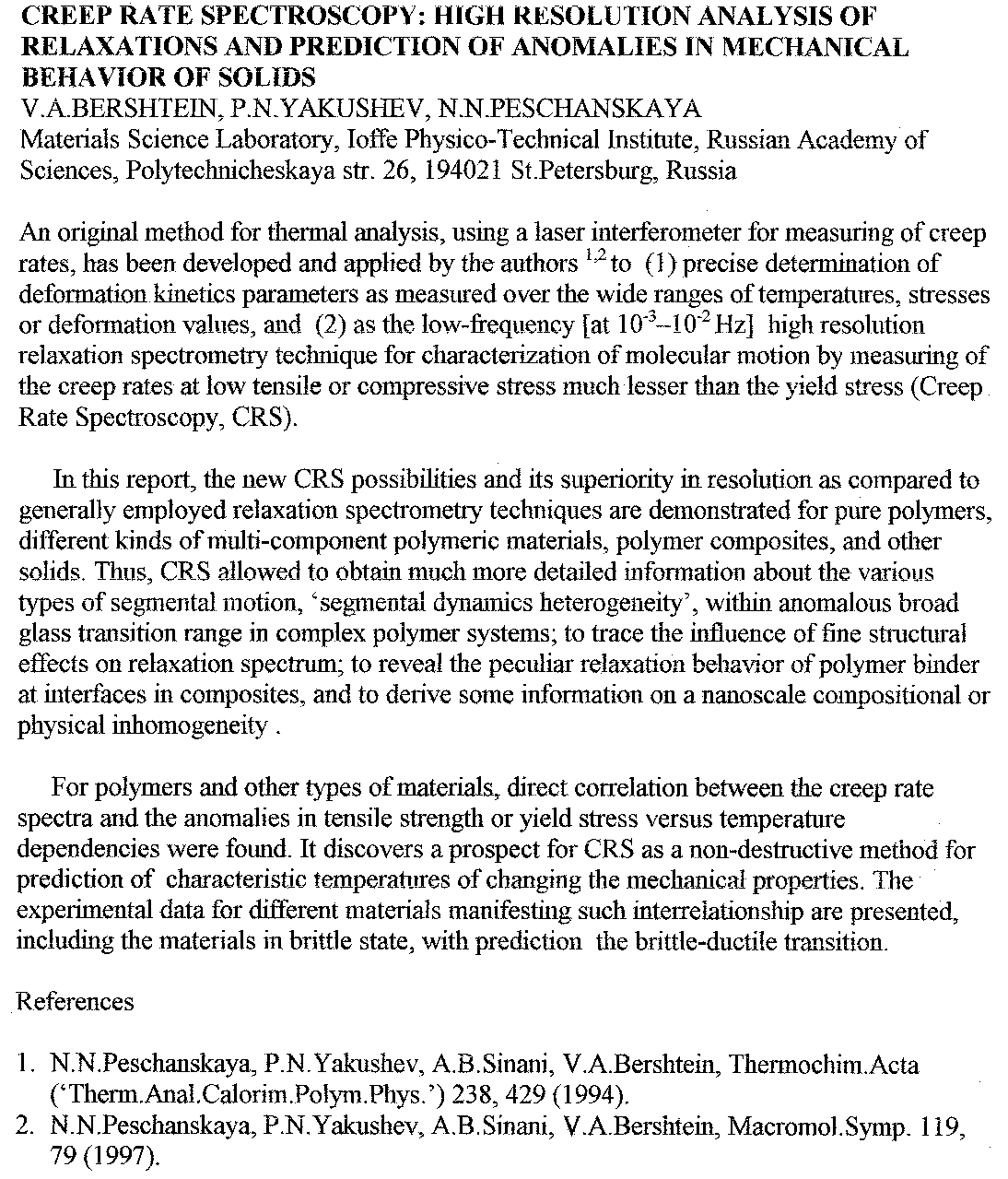 ---
SL5
THE ANHARMONIC CHARACTER OF Tg and Tm TRANSITION
B. HLAVÁČEKa, V. KŘESÁLEKb, J. SOUČEKa
aDepartment of Polymers, University of Pardubice, nám. Čs.legií 565, CZ-532 10 Pardubice, Czech Republic
bDepartment of Physics, University VUT–Brno at Zlín, nám. T.G.Masaryka 2, CZ-762 72 Zlín, Czech Republic
The idea of anharmonic oscillations has been extended to explain the glass transition or melting point. All ideas of free volume, vacancy transport etc. have been respected but are treated as minor phenomena relative to harmonic-anharmonic vibration transition. A simple model of coupled oscillators is studied. It is shown that coupled anharmonic oscillators can produce vibrations on entirely different levels of amplitudes, which explains the highly different coefficients of thermal expansion and cp values for solid and liquid states. At higher temperatures, for polymers in rubber-like zone, the theory of anharmonic coupled oscillators brings certain justification for the theories of P.G. De Gennes, M. Doi and S.E. Edwards or P.E. Rouse. The solid-liquid transition seems on microlevel to be connected mainly with the enlargement of vibrational amplitudes of monomer or dimer units in polymer chain as the temperature increases.
---
SL6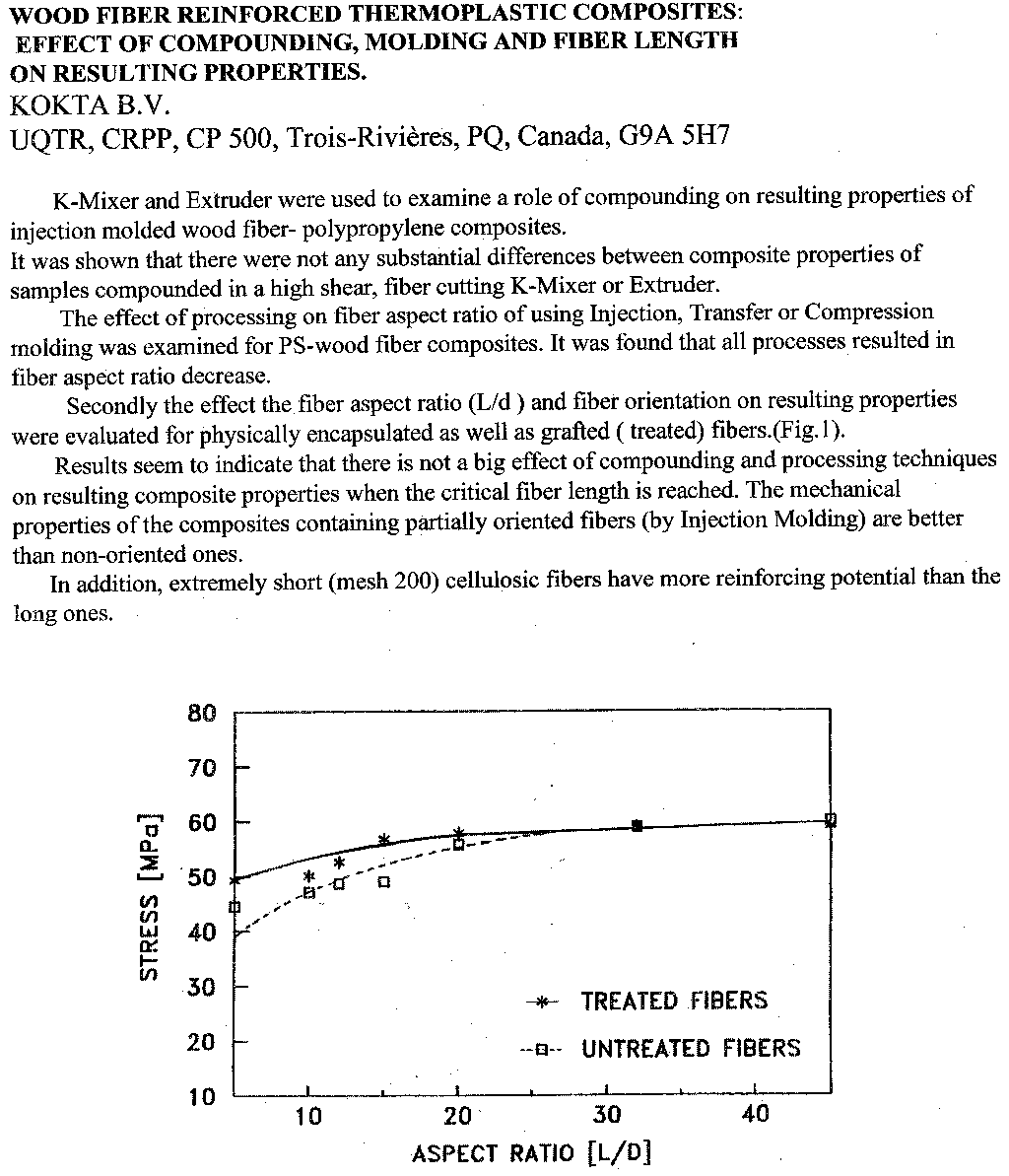 ---
SL7
LIGNOCELLULOSE - POLYMER COMPOSITES V
*OLFAT MANSOUR, **BOTHINA ABD EL-HADY, *SAMIR K. IBRAHIM,
*MAGDA GODA
*Cellulose and Paper Dept., **Polymer and Pigment Dept.,National Research Center, Doki, Cairo, Egypt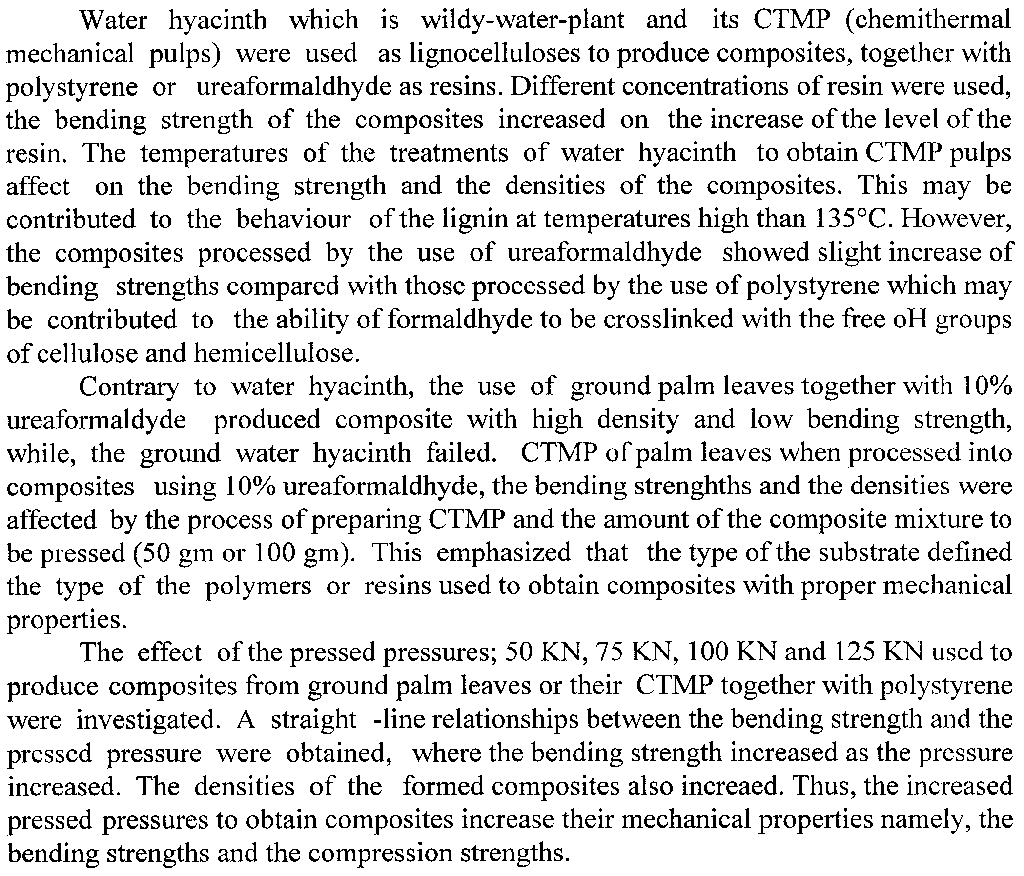 ---
SL8
EFFECT OF THE COMPATABILIZER ON THE PROPERTIES OF POLYAMIDE IN-SITU COMPOSITES
Y. SEO, S. KWAK, S.K. KOH, K.U. KIM
Polymer Processing Laboratory, Korea Institute of Science and Technology (KIST0),
P.O. Box 131, Cheongryang, Seoul, Republic of Korea 130-650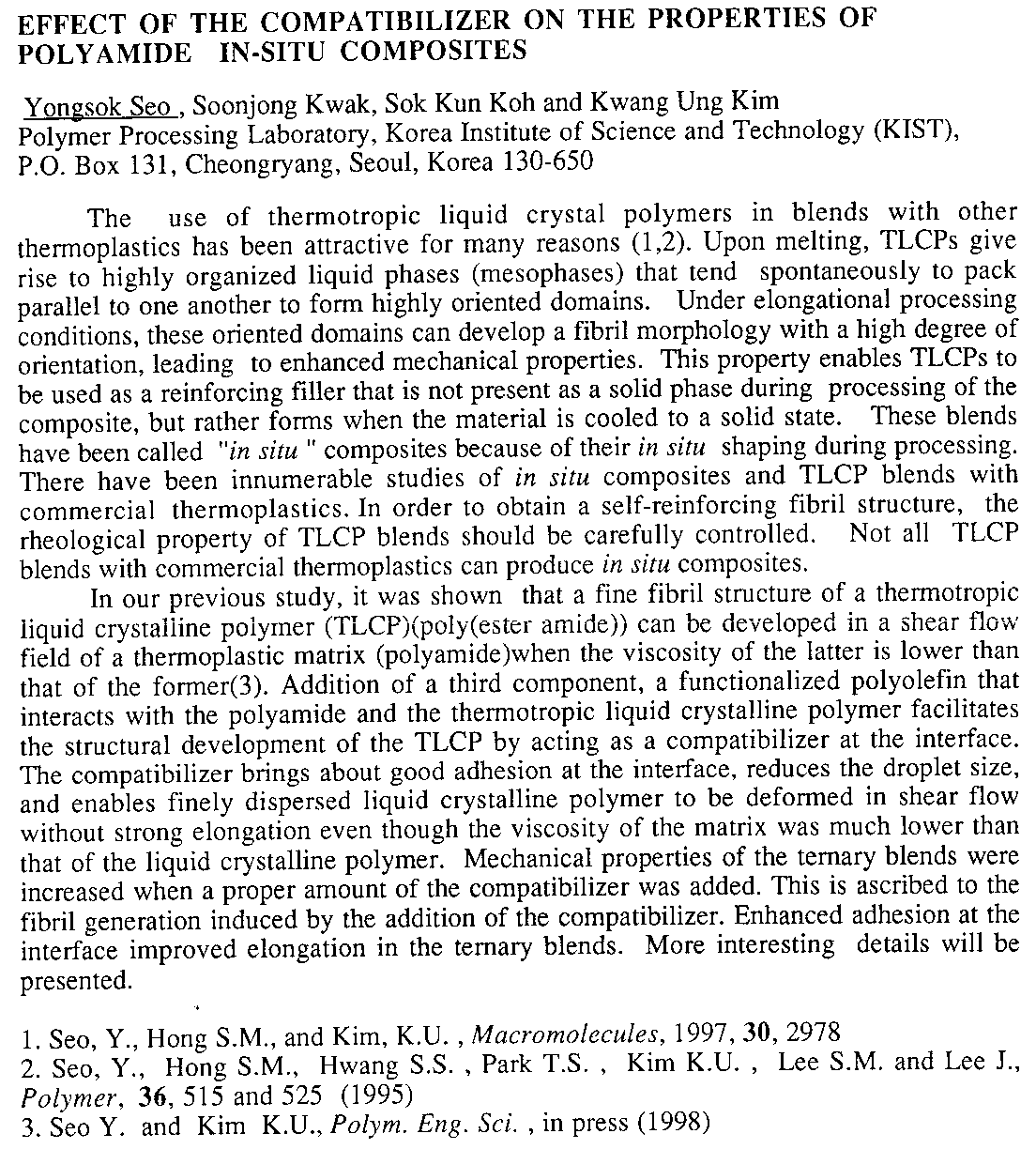 ---
SL9