10–14 September 2017 Prague
Jiří Pfleger and Věra Cimrová
Chairs, IMC Prague
Welcome to the 81st PMM conference organized by the Institute of Macromolecular Chemistry in friendly autumn Prague.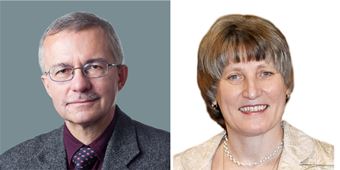 ---
The conference follows the tradition of Prague Meetings on Macromolecules as the 81st event in the series organized since 1967. The present meeting will provide an interdisciplinary forum for scientists working in the field of molecular and polymeric materials with emphasis on the electrical, photoelectrical and optical properties and phenomena and applications, e.g., in flexible printed electronics and photonics.
The objectives are to achieve international cooperation of researchers both from academia and industry and to stimulate the research growth in the field of organic materials for electronics and photonics.
---
Topics
Design, synthesis, processing and characterization of novel functional organic materials and polymers
Electrical, photoelectrical, optical and nonlinear optical phenomena
Organic and hybrid electronic and photonic devices
Applications in flexible and wearable organic electronics and smart packaging
Advanced materials and composites for biosensors, bioelectronics, and biophotonics
Style of the Conference
The program will consist of oral presentations of invited as well as contributed lectures. A parallel session focused on applications will be organized. Two sessions are planned for poster presentations.
---
>
---
Advisory Board
Prof. Sir Richard Friend (Cavendish Laboratory, Cambridge, UK)

Dipl.-Ing. Thomas Kolbusch (Coatema Coating Machinery GmbH, Germany)

Prof. Dieter Neher (University of Potsdam, Germany)

Prof. Jacek Ulański (Lodz University of Technology, Lodz, Poland)

Prof. Gerhard Wegner (Max-Planck Institute for Polymer Research, Mainz, Germany)

Prof. Martin Weiter (Brno University of Technology, Brno, Czech Republic)
---
Sponsors
If you would like to be a sponsor of this event or to contribute at another level, please feel free to contact us. We'll be glad to discuss options with you. We would gladly highlight the name of your company in the published Conference Book of Abstracts, on this page of the Conference web site, and at the Conference venue. In case of your interest, we can exhibit products or promotional materials of your company during the event to an international audience, both academic and industrial.
For sponsorship, please contact:
Conference office Tel: +420-296 809 331
Email: sympo@imc.cas.cz
Sponsors of the conference
---