28 June - 2 July 2015 Prague
František Rypáček
and Eduard Brynda
Chairmen, IMC Prague
Welcome to the 79th PMM conference organized by the Institute of Macromolecular Chemistry in friendly summer Prague.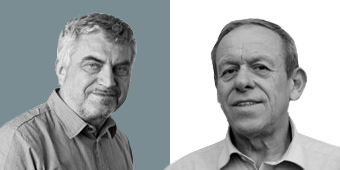 ---
The understanding of events occurring at interfaces between the material surface and the environment of living tissues is crucial for the rational design of new biomaterials for tissue engineering or tissue regeneration, for development of advanced biomedical implants as well as biosensors. The cues influencing the protein adsorption, cell adhesion, proliferation and differentiation in contact with a biomaterial are based on solid-phase signals that are realized through surface-immobilized biomimetic structures and their interactions with cytoskeleton-bound cell receptors.
The symposium will focus on the most recent achievements in material design and surface engineering approaches.
---
Topics
Functional polymers and surface modification techniques for creation of bio-responsive surfaces
Polymer thin films and polymer brushes
Non-fouling surfaces
Biomaterial surface/biomolecules/cell/blood interactions
Biomimetic surface patterns
Advanced techniques for surface characterization on molecular and supramolecular levels
---
---
Advisory Board
Xuesi Chen (People´s Republic of China)

Mirosława El Fray (Poland)

Andres J. Garcia (USA)

Neli Stoyanova Koseva (Bulgaria)

Igor Lacík (Slovakia)

Paolo A. Netti (Italy)

Buddy D. Ratner (USA)

Carsten Werner (Germany)

Shuguang Zhang (USA)
---
Sponsors
If you would like to be a sponsor of this event or to contribute at another level, please feel free to contact us. We'll be glad to discuss options with you. We would gladly highlight the name of your company in the published Conference Book of Abstracts, on this page of the Conference web site, and at the Conference venue. In case of your interest, we can exhibit products or promotional materials of your company during the event to an international audience, both academic and industrial.
For sponsorship, please contact:
Conference office Tel: +420 296809331
Email: sympo@imc.cas.cz
Sponsors of the conference
---
Contact
Conference office:

Ms. Daniela Illnerová
Ms. Marie Rodová

Address and venue:

Institute of Macromolecular Chemistry
The Czech Academy of Sciences
Heyrovského nám. 2
162 06 Prague 6
Czech Republic

Phone:
+420-296 809 331
Fax:
+420-296 809 410
E-mail:
sympo
Web:
www.imc.cas.cz/sympo/79pmm
Maps:
Mapy.cz - Google - OpenStreetMap - Public transport
79th <!span class="brown">Prague Meeting on Macromolecules<!/span>