Second circular available , Programme Booklet available
---
INSTITUTE OF MACROMOLECULAR CHEMISTRY

ACADEMY OF SCIENCES OF THE CZECH REPUBLIC

INTERNATIONAL UNION OF PURE AND APPLIED CHEMISTRY

CZECH CHEMICAL SOCIETY
2007 Prague Meetings on Macromolecules
70th PMM - 46th Microsymposium
NANOSTRUCTURED POLYMERS AND POLYMER NANOCOMPOSITES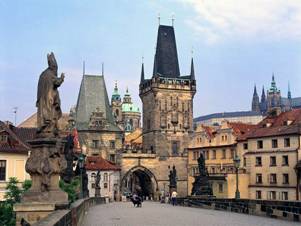 PRAGUE, July 8-12, 2007
first circular
---
NANOSTRUCTURED POLYMERS AND POLYMER NANOCOMPOSITES
Microsymposium Chairman: Libor Matějka
SCOPE
The science and technology of polymer-based nanomaterials have shown great progress during the last decade. Nanostructured polymer systems, including organic-inorganic polymers, are an area of a high scientific and applied research interest. The goal of this microsymposium is to present the progress and new methods in synthesis and characterization of nanostructured polymers and polymer nanocomposites, as well as recent knowledge about their structure and properties. The process of nanostructuration, modelling of structure-property relationships and applicability of nanocomposites will be discussed. The experts joining the Microsymposium will also discuss the future developments in the field of polymer nanomaterials.
TOPICS
Nanostructured polymer systems - block copolymers, polymer blends, liquid crystalline and supra-molecular polymers and gels
Organic-inorganic polymers formed by

in situ generation of structures - sol-gel process
using nanobuilding blocks - polyhedral oligomeric silsesquioxanes (POSS), inorganic functional clusters

Polymer nanocomposites based on clays (layered silicates), carbon nanotubes
Bioactive, biomedical and biomimetic nanomaterials
Molecular and phase structure evolution during processing - nanostructuration, ordering, self-assembling - in line monitoring
Interfaces/interphases and dynamics in nano-structured polymers
Structure hierarchy in nanomaterials, multiscale structured hybrids
Advanced experimental techniques for preparation and characterization of polymer nanomaterials
Computer simulation and modelling, structure-property models
Nanomaterials for special applications - optical, electronic and magnetic materials, coatings, membranes
MAIN LECTURES
The following distinguished scientists have already agreed to present main lectures:
Jean-FranÇois Gerard (UMR CNRS, Laboratoire des Matériaux Polymères, INSA Lyon, France)
Richard M. Laine (Macromolecular Science and Engineering Center, University of Michigan, Ann Arbor, MI, USA)
Joe Lichtenhan (Hybrid Plastics Inc., Hattiesburg, MS, USA)
Douglas A. Loy (University of Arizona, Tucson, Arizona, USA)
Masaru Matsuo (Nara Women's University, Faculty of Human Life and Environment, Japan)
Jean-Pierre Pascault (UMR CNRS, Laboratoire des Matériaux Polymères, INSA Lyon, France)
Clément Sanchez (Laboratoire de Chimie de la Matière Condensée, UMR CNRS 7574, UPC, Paris, France)
Mitsuhiro Shibayama (Institute for Solid State Physics, University of Tokyo, Kashiwa, Japan)
Ulrich S. Schubert (Vienna University of Technology, Institute of Materials Chemistry, Wien, Austria)
R.J.J. Williams (Instituto de Investigaciones en Ciencia y Tecnología de Materiales, Universidad Nacional de Mar del Plata, Argentina)
LECTURES About 10 invited and 20 special lectures are planned to be presented at the Microsymposium. Those participants who wish to present a special lecture should submit a brief summary with the preliminary registration to the PMM Secretariat before 31 January 2007. In the end of February 2007, the authors will be notified whether their contribution have been accepted for oral presentation.
PUBLICATION Summaries of lectures and poster communications will appear in the Programme Booklet. Full text of selected papers will be published in a special volume of Macromolecular Symposia.
VENUE
Institute of Macromolecular Chemistry
Academy of Sciences of the Czech Republic
Heyrovského nám. 2,
162 06 Prague, Czech Republic
REGISTRATION
Please return preliminary registration or pre-register on the web by 31 January, 2007 at https://www.imc.cas.cz/sympo/46micros.html
The number of participants is limited to 120.
Full information and final registration form will be included in the Second Circular to be published on web at URL https://www.imc.cas.cz/sympo/46micros/ in the end of February 2007. The pre-registered persons will be notified by e-mail.
REGISTRATION FEES:
| | | |
| --- | --- | --- |
| | before April 15, 2007 | later |
| Full fee | 450 € | 550 € |
| IUPAC affiliate | 420 € | 520 € |
| Student fee | 250 € | 350 € |
The registration fee for an active participant includes microsymposium materials, admission to all sessions, refreshments, four lunches, and participation in the welcome reception and farewell drink.
Doctoral students have to provide their student status by sending an official statement from their university via airmail or fax.
ACCOMMODATION:
The accommodation will be available in dormitories or in hotels, and it is not included in any registration fee. Detailed information will be given in the Second Circular.
IUPAC sponsorship implies that entry visas will be granted to all bona fide scientists provided application is made not less than three months in advance. If a visa is not granted one month before the meeting, the IUPAC Secretariat should be notified without delay by the applicant.
---
Prague Meetings on Macromolecules
70th meeting – 46th Microsymposium
Under the auspices of the
INTERNATIONAL UNION OF PURE AND APPLIED CHEMISTRY
Polymer division
Jung-Il Jin
President of the Polymer Division
MICROSYMPOSIUM CHAIRMAN
Libor Matějka
LOCAL PROGRAMME COMMITTEE
M. Raab, M. Špírková, A. Strachota, B. Meissner, I. Kroutilová, B. Strachotová
Organized by the
INSTITUTE OF MACROMOLECULAR CHEMISTRY ACADEMY OF SCIENCES OF THE CZECH REPUBLIC
K. Ulbrich Director of the Institute
D. Výprachtický PMM Head
Secretariat for scientific meetings
E. Grisová, M. Rodová
Editor
J. Kahovec
Technical Managers
J. Jůza, J. Kaprálek
---
Address
PMM SECRETARIAT
Institute of Macromolecular Chemistry
Academy of Sciences of the Czech Republic
Heyrovského nám. 2, 162 06 Prague, Czech Republic
---