Second circular | Programme booklet
---
INSTITUTE OF MACROMOLECULAR CHEMISTRY
ACADEMY OF SCIENCES OF THE CZECH REPUBLIC
INTERNATIONAL UNION OF PURE AND APPLIED CHEMISTRY (IUPAC)
2006 PRAGUE MEETINGS ON MACROMOLECULES
45th microsymposium
STRUCTURE AND DYNAMICS OF SELF-ORGANIZED MACROMOLECULAR SYSTEMS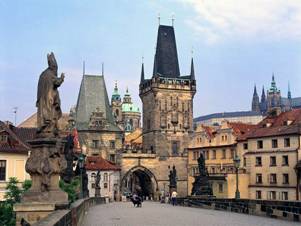 PRAGUE, 9 - 13 JULY 2006
First circular
---
STRUCTURE AND DYNAMICS OF SELF-ORGANIZED MACROMOLECULAR SYSTEMS
Symposium Chairman: Petr ŠTĚPÁNEK
Structure and Dynamics of Self-organized Macromolecular Systems
Prague, July 9-13, 2006
INTERNATIONAL ADVISORY BOARD
Dr. Oleg Borisov, University of Pau, France
Prof. Russell Composto, University of Pennsylvania, USA
Dr. Olivier Diat, Commissariat a l'Energie Atomique, Grenoble, France
Prof. Joseph Janca, University of La Rochelle, France
Dr. A. Kiriy, Institute for Polymer Research, Dresden, Germany
Dr. Jyotsana Lal, Argonne National Laboratory, Argonne, USA
Prof. Timothy Lodge, University of Minnesota, USA
Prof. Axel Mueller, University of Bayreuth, Germany
Prof. Frederic Nallet, University of Bordeaux, France
Dr. Laurence Noirez, Commissariat a l'Energie Atomique, Saclay, France
Prof. Christine Papadakis, Technical University of Munchen, Germany
Prof. Karel Prochazka, Charles University, Prague, Czech Republic
SCOPE
Technological advances in many scientific areas lead to investigation, understanding and exploiting of structures of continually smaller dimensions. Due to a large variety of building blocks, chemical reactions and architectures, polymers represent a particularly rich field where self-organization can be exploited to obtain materials with new properties. The scope of this meeting is to bring together scientists working in the area of synthetic polymers and biopolymers and interested in self-organization.
TOPICS
chemical routes for self-organization
physics of self-organization
self-organized surfaces and interfaces
self-organization in biology
polymer complexes, ion-containing polymers and membranes
MAIN LECTURES
The following distinguished scientists have already agreed to present main lectures:
SPECIAL LECTURES About 20 special lectures (20 min each, additional 5 min for discussion) are planned to be presented at the Microsymposium. Those participants who wish to present an oral lecture should submit a brief summary with the preliminary registration to the PMM Secretariat before December 31, 2005. In January 2006, the authors will be notified whether their contribution have been accepted for oral presentation.
PUBLICATION Summaries of lectures and poster communications will appear in the Programme Booklet. Full text of selected papers will be published in a special issue of a renowned international journal.
VENUE Institute of Macromolecular Chemistry, Academy of Sciences of the Czech Republic, Heyrovského nám. 2, Praha 6.
REGISTRATION please return preliminary registration or pre-register on the web. The original deadline December 31, 2005 has been shifted to January 31, the pre-registration (stopped by begin of 2006) has been again enabled on January 6. The number of participants is limited to 120.
Full information and final registration form will be included in the Second Circular published on web at URL http://www.imc.cas.cz/sympo/45micros/. The pre-registered persons will be notified by e-mail.
REGISTRATION FEES:
| | before April 1, 2006 | later |
| --- | --- | --- |
| Full fee | 450 EUR | 550 EUR |
| IUPAC affiliate | 420 EUR | 520 EUR |
| Student fee | 250 EUR | 350 EUR |
The registration fee for an active participant includes microsymposium materials, admission to all sessions, refreshments, four lunches, and participation in the welcome reception and farewell drink.
Doctoral students have to provide their student status by sending an official statement from their university via airmail or fax.
ACCOMMODATION: The accommodation will be available in dormitories or in hotels, and it is not included in any registration fee. Detailed information will be given in the Second Circular.
VISAS: IUPAC sponsorship implies that entry visas will be granted to all bona fide scientists provided application is made not less than three months in advance. If a visa is not granted one month before the meeting, the IUPAC Secretariat should be notified without delay by the applicant.
---
Prague Meetings on Macromolecules
67th meeting - 45th Microsymposium
Under the auspices of the
INTERNATIONAL UNION OF PURE AND APPLIED CHEMISTRY
R.F.T. Stepto

President of the Macromolecular Division

MICROSYMPOSIUM CHAIRMAN

Petr Štěpánek

LOCAL PROGRAMME COMMITTEE

Č. Koňák, J. Holoubek, J. Pleštil, P. Černoch, Z. Tuzar, E. Brynda, M. Janata
Organized by the
K. Ulbrich

Director of the Institute

D. Výprachtický

PMM Head

Secretariat for scientific meetings

M. Srpová, E. Grisová, M. Rodová

Technical Managers

J. Kahovec, J. Jůza, J. Brus, J. Kaprálek
PMM SECRETARIAT
Institute of Macromolecular Chemistry
Academy of Sciences of the Czech Republic
Heyrovského nám. 2, CZ-162 06 Praha 6,
Czech Republic
| | |
| --- | --- |
| Telephone: | +420-296 809 332 |
| Telefax: | +420-296 809 410 |
| E-mail: | sympo @imc.cas.cz |
DETAILED AND TOPICAL INFORMATION: http://www.imc.cas.cz/sympo/45micros/index.html