Exhibition
---
Institute of Macromolecular Chemistry AS CR, v. v. i.
and
Studio of Sculptory of Academy of Arts, Architecture and Design in Prague
invite you cordially to the exhibition
Mařák's followers 2011
from plein air paintingin Zákolany, Okoř and Kováry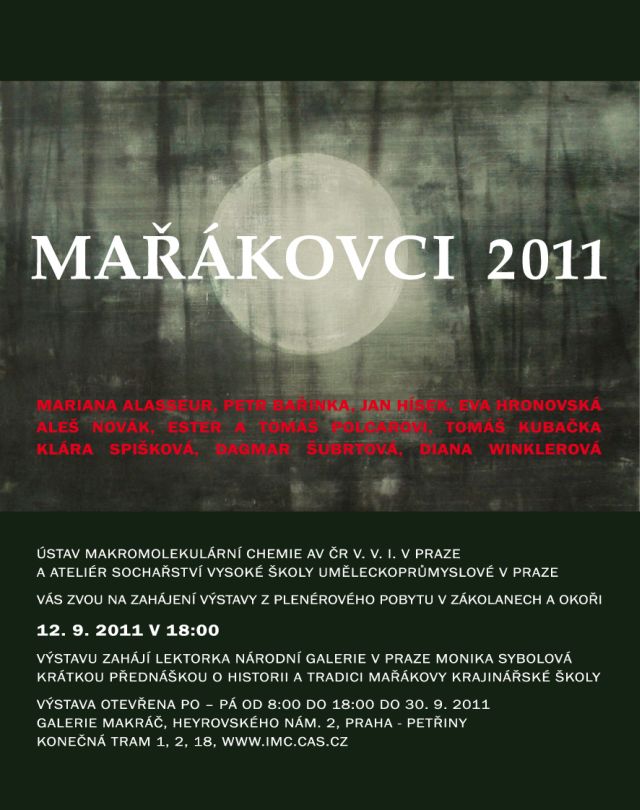 Exhibiting authors: Mariana Alasseur, Petr Bařinka, Jan Hísek, Eva Hronovská, Aleš Novák, Ester a Tomáš Polcarovi, Tomáš Kubačka, Klára Spišková, Dagmar Šubrtová, Diana Winklerová
Opening on 12 September 2011 at 6 p.m. The exhibition was opened by a National Gallery in Prague lector Monika Sybolová with a short lecture about history and tradition of Mařák's landscape painter school.
Open from 8 a.m. to 6 p.m. on working days till od 12th September 2011 do 28th October 2011
Institute of Macromolecular Chemistry AS CR, Praha 6, Heyrovského nám. 2 (terminal of trams 1, 2, 18).
---
«Previous exhibition«
»Next exhibition»
2011
Exhibitions list