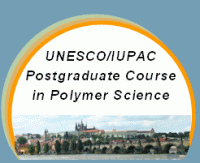 News:
Deadline for application for the

UNESCO/IUPAC Course 2018-2019

20 February 2018


24 July 2017
Address:

Institute of Macromolecular Chemistry
Czech Academy of Sciences

Heyrovského náměstí 2
162 06 Praha 6
Czech Republic
How to Apply for UNESCO/IUPAC Course:
Requested documents:
1) Letter of application
2) CV
3) Contact details (incl. email address) for two renowned scientists who can write a letter of recommendation
4) Two letters of recommendation from these scientists will be requested by the prospective supervisors (please do not send these letters yourselves)
Please, send these documents by email to unesco.course or by fax to +420 296809410

We emphasize, that before the Course starts, you must have a complete Master's degree

The deadline for application for the 2018/2019 Course has been 20 February 2018
The project topics has been announced on 23 January 2018.

Please send your applications ONLY in the period between 23 January 2018 and 20 February 2018

If you have any queries, please contact the UNESCO/IUPAC Course coordinators:



Dr. Hana Studenovská

Dana Špácová

Kateřina Nožárová

E-mail address: unesco.course
Letter of Application
This is a template of the application letter. The letter should be signed and sent by email as a scanned document.
Dr. Jiří Kotek
Director of the Institute of Macromolecular Chemistry, Czech Academy of Sciences
Heyrovskeho nam. 2
162 06 Prague 6
CZECH REPUBLIC


Dear Dr. Kotek,

I am interested in participation in the UNESCO/IUPAC Postgraduate Course in Polymer Science 2018/19 organized by the Institute of Macromolecular Chemistry, Czech Academy of Sciences, under the conditions as specified at http://www.imc.cas.cz/unesco/index.html.
Please find enclosed my curriculum vitae and contact details for two renowned scientists.

Thank you for considering my application.
Yours sincerely,
(your signature)

Curriculum Vitae
We would like you to mention these items in your CV:

Name
Date of birth
Place of birth
Address
E-mail

Education and Courses (incl. degree abbreviation, years)

Professional experience
Other job experience
Other activities
Languages
Preferred research project (select from this list)