From the Airport [Letiště Ruzyně]:
Most probably you arrive at terminal North [Sever]. If you arrive at terminal 3 - South [jih], see paragraph below. Terminal 2 is used for flights from and to countries of Schengen Agreement, Terminal 1 for flights from and to all other countries. Terminal 3 is used mostly for non-public flights including charter flights. For details about the airport, see its web.
Important note: From 5 to 9 July 2012, Metro line A does not operate between Můstek and Dejvická stations. For connection with city centre, use bus 100 from airport to Zličín metro stop and vice versa.
Terminals 1 and 2
The dislocation of stops is drawn in the picture. To reach the City, buses 100 and 119 (the shortest lines to Metro) are most suitable. To get to the Institute, you have to use bus 179 (in the peak hours, the bus leaves from the platform B of Terminal 1 and from platform B of Terminal 2 every 12-15 min, outside peak hours and on weekends every 15-30 min, at night bus 510 every 60 min - you possibly might travel to O Větrník or Hvězda student dormitories near the Institute at night) and get off at the Petřiny stop (19-23 min; 13th from Terminal 2 and 14th from Terminal 1) for the Institute.
Buses 100, 119, 179, 225, and 510 depart from the stop on the main street (K letišti) approx. 200 m from the arrival hall. With bus No. 179, the Institute is at the 9th stop (14-15 min).
To get to city centre or to Academy residence Na Marně, you can use:
bus 119 to its end station at Metro Dejvická. The fare in bus 119 is 24 Kč (ticket should be purchased from ticket machine at the stop or at a counter of PIT - Prague integrated transport in the airport hall, one-day or 5-days tickets for Prague public transport are valid here) and you can continue with the same ticket by Metro, tram or other city bus in the time limit of 30 min.
bus "Airport express"; its fare is 40 Kč to Dejvická (60 Kč to Praha hl.n. railway station, purchased from driver; the ticket purchased in railway station costs 39 Kč), it goes faster and unlike bus 119 it is never crowded.
comfortable minibus operated by CEDAZ; its fare is 130 Kč to City
suburban buses Kladno - Praha A22, A23, A56 for 14 or 18 Kč (purchased from driver) to Dejvická (from Terminál 1 only)
bus of Student Agency company to Florenc central coach station for 50 Kč (from Terminál 2 only)
The stop where you get off is in the blue marked stop at the left side of the map.
The tram 2 to Petřiny (where the Institute is located) departs in the same direction from the neighbouring tram stop (as shown in the photo below).
Hradčanská station, from where you reach the Academy residence Vila Lanna by walk, can be reached by Metro or by tram 8 from the neighbouring tram stop.
The buses 143, 149, 180 and 217 (needed to get to Pyramida or Jelení dvůr hotels) depart from the bus stop in the north of the square (stop No 13 in the map) and then from the Kafkova stop.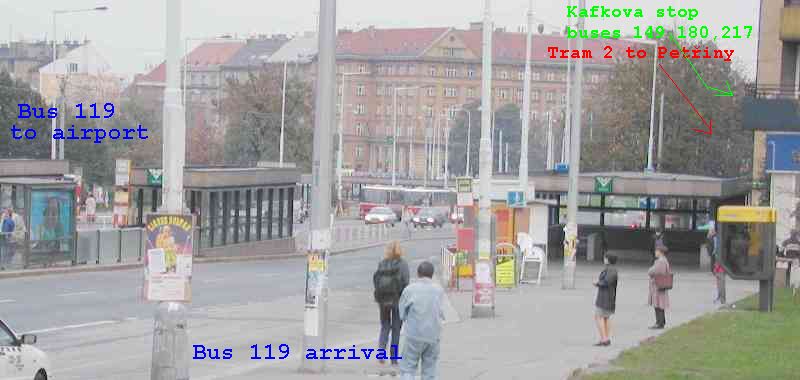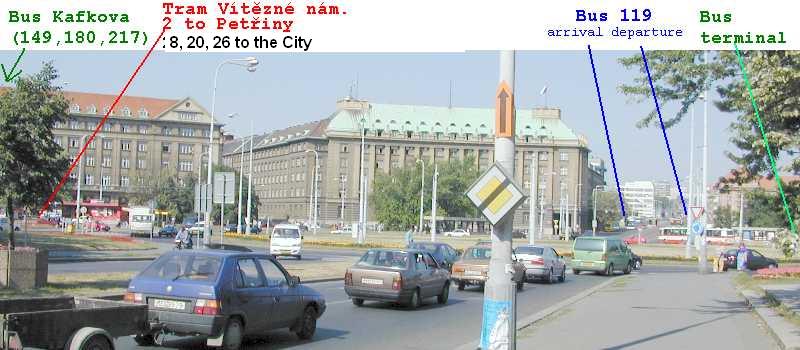 ---